Many would think the industry is entering a golden age of prosperity caused by the explosion of data usage, and the ever-continuing digital transformation of the planet by new use cases and technologies being enabled by AI, 5G, Digital Transformation and IoT. Instead, these emerging technologies are forcing a radical shift from traditional service offerings for most telecom providers. IoT is Reshaping the Telecom Industry. New IoT opportunities are expected to be in high demand and therefore highly profitable.
But the clock is ticking on this window of opportunity. Telecoms need to begin creating these innovative new IoT products, platforms, and use cases NOW and map out their path to move up the value chain in the IoT-enabled new world before it is too late.
Here are three things for telecoms to consider while mapping out the path of their IoT strategy:
Create IoT Value by "moving up the value chain"
IoT, in its simplest form:
provides data, to
create insights, to
initiate actions, to
make or save resources (money, tasks, time)
Everything else is just hyperbole.
Customers value IoT solutions which provide ALL FOUR of these; solutions providing less will be at a competitive disadvantage in the long-term.  This goes beyond providing traditional connectivity, data, and/or spectrum. Telecoms need to assume a broader role to become platform and application providers to create new value and revenue streams in the IoT market.
Customers choose IoT solutions that will provide the best mix of savings and simplicity: (a) saving them the most money, and (b) making their jobs as easy as possible (i.e. the factory/farm/warehouse practically runs itself). They will not want a solution that only provides an additional connectivity or gives them 1.21 terabytes of new data they will now have to wade through to find value: you just made their lives harder and increased their cost.
Move up the Value Chain…
According to IDC Research and Bain, the overall IoT market opportunity is expected to be $1.2 trillion dollars by 2022.  But only 5% to 15% of this is expected to be network and telecom related revenues.  Still a huge market, but only a small sliver of the overall IoT revenue potential.  The Telecom industry has already allocated significant capital to capture and monetize the potential. However, simply developing or deploying the new infrastructure needed for IoT services will not be enough. Telecoms will need new business models, use cases and partnerships to remain relevant to the market and not a commodity service provider.
The winners in the Telecom industry will be those who see this challenge / opportunity, jump into the IoT innovation race, and successfully deliver high-value, scalable data-driven and insight-rich services that focus on cost and convenience while making a positive impact on their customers lives or supply chain.
To repeat: the key for Telecoms is to offer the new IoT value proposition to their customers. Failure to do this will enable competitors (traditional, external, OTT, and new digital entrants) who provide these IoT value services to steal customers (and revenue funding) and market share from the traditional Telecom markets (data, connectivity, etc.). Customers are becoming more demanding and want value, simplicity, and services that make their jobs and lives easier.
Read more about the IoT value opportunity in an earlier post here: Dear Telecom, IoT can kill you
Become a Corporate Cannibal
Steve Jobs famously said, "if you don't cannibalize yourself someone else will."
The willingness to cannibalize a company's existing product offering before it is in decline is often counterintuitive to many business leaders. It is not easy to favor short-term cannibalization of existing product revenues, as a strategic proposition, to lay the groundwork for long-term growth.  It is also difficult to get it right.
The 4th Revolution will greatly disrupt many sectors of the Telecom industry, while making others irrelevant.  General Eric Shinseki said, "If you don't like change, you're going to like irrelevance even less."
The solution is to embrace self-cannibalization via a holistic innovation strategy focusing on customer retention and a long-term view of market acquisition. Once a corporation embraces their inner cannibal, all sorts of opportunities can come into focus. Selling or enhancing existing products and core services will no longer be the sole focus. A cannibal sees the world and any/all new technologies not as a threat, but as an opportunity, embracing their potential. A cannibal will be constantly asking how a combination of AI, ML, IoT, 5G, AR, VR, Data, Blockchain, and/or Digital Transformation can disrupt their industry. Read more on my earlier post: How to be a Corporate Cannibal in Four Easy Steps
Plan for 5G ($), ignore LPWAN ($$$) at your own peril
5G has been dominating the discussions around IoT and networking lately forcing other emerging narrowband technologies out of the spotlight. But as Telecoms fine tune their IoT strategic initiatives, focusing on 5G only and ignoring Low Power Wide Area Network (LPWAN) technologies like NB-IoT and LoRa may lock them out of a massive amount of IoT use cases and revenue opportunities.
Follow the money:
This comes into clear focus after grouping the IoT revenue forecasts of various technologies (source: statista) for comparison, see the chart below. Broadband IoT revenues (in red) will increase dramatically as legacy 2G and 3G revenues peak in 2020 and decline. Yes, 5G is a technology to prepare for, but this is only part of the long-term IoT spectrum potential.
Adding NB-IoT and LTE-M (in dark green) shows the larger IoT revenue potential of this licensed spectrum for Telecom operators (it is bigger than 5G!). Now add the IoT revenue for unlicensed LPWAN spectrum technologies like LoraWAN, Sigfox, etc. (in light green) and the revenue upside relative to 4G/5G becomes much more apparent.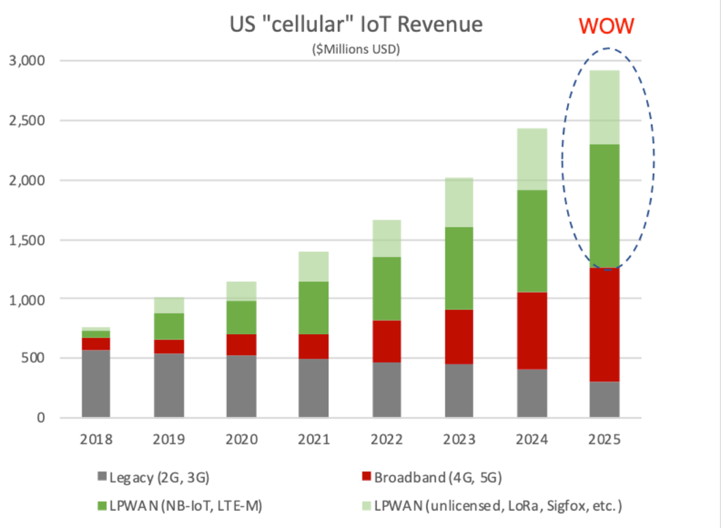 For this reason, Telecoms around the world are including LPWAN in their strategic IoT efforts.  In India, all three Indian operators (Reliance Jio, Vodafone Idea, Bharti Airtel) are deploying narrowband IoT (NB-IoT) commercially after completing both commercial and consumer pilot tests.  SenRa and Bosch recently announced plans to deploy LoRaWAN in India too. Similar pilots and launches are being announced in other countries around the world, such as Three in the UK. LPWAN is becoming the new narrowband licensed spectrum standard connecting IoT projects.
Enter now or wait 20 years:
Late entry on the LPWAN IoT scene for Telcos could result in missed opportunities to gain/maintain market share and revenue streams.  It is now becoming apparent, given the strategic importance of IoT, finding the fastest path to IoT customer value is going to be the key for Telecoms to prosper in the 4th revolution. In addition, a vast amount of IoT LPWAN revenue opportunities exist NOW and don't have to wait for wholesale network upgrades like 5G.  This is shown in the uptick in the revenues (in green) on the chart above between 2018 to 2021.  Telcos need to enter and leverage the IoT market now as these opportunities will determine what IoT technology is used (LoRaWAN, NB-IoT, SigFox, etc.); Afterwards, the technology will be locked in for years to come. Failure to gain market share now and a Telecom may have to wait another 20 years in some cases.  Remember the VHS vs. BetaMax, 8-Track vs. Cassette, and the list goes on.
How big is big? It's BIG…
Looking beyond existing mobility services, Telecoms are well positioned to expand into newer IoT markets such as smart homes, smart buildings/cities, smart vehicles, wearables, smart utilities, smart metering, manufacturing, industrial, retail, healthcare and enterprise among others. Connected industry (17%) and smart city (27%) account for 44% of the IoT use cases globally.
All counted, consumer IoT connections will reach 11 billion connections by 2025, according to GSMA, with 14 billion more when counting industrial IoT.
In terms of revenue, IoT opportunity for Telecoms will be $9 billion in 2020, up from $1.3 billion in 2016, a 700% increase.
IoT is the "what", but what is the "how"?
"Telstra is evolving from a telco to a techco — to be a world-class technology company empowering people to connect," – Joe Pollard, CMO of Telstra.
"We think that startups will be key in our transformation," – Jean Michel Serre, CEO of Orange Labs.
How can Telecom companies launch thriving, multiple IoT businesses in the near term? Not being in the game is no longer an option. The challenge is, as always, in the execution.
Keep in mind IoT is not "a thing" but rather "many things" encompassing sensors, security, privacy, communications, data ownership/governance, platform considerations/configuration, AI, Machine Learning, and the analytics stack (including operational, investigative, and predictive analytics). Making connected systems work beyond those elements requires internal process adaptation, organizational structure adaptation and current and future regulatory considerations.
Few can do it alone using their existing processes and corporate culture. The key is to find the right mix of initiatives to move outside your comfort zone, innovate, cannibalize and partner.  Read more about the IoT value opportunity in an earlier post here: A Better Way to Launch IoT Innovation for Telecoms
Let me know your thoughts, questions, and insights in the comments below.  I am very interested on your viewpoints, good and bad.  If you want to have a deeper discussion on the industry, corporate innovation, or partnering let me know.